Cold weather has arrived in some northern states, and for the rest of us…it never hurts to be prepared!! Goodwill helps all of us expand our coat selections and take them to new levels.
I love this coat…it has a chic, Mad-Men-vibe to it and will be great for going out with Mr. B. I paid $6 at Goodwill SA, and then paid $5 to have it cleaned….an incredible look for just $11!! At these prices, we can have coats of many colors in our winter wardrobes.
This authentic Burberry scarf was ripped across the bottom. My mom came up with the idea to sew it shorter and put lace hemming tape across the back..actually a nice touch. I know it decreases the value, but I do not care since I just want to wear it!
From coats, to scarves, to boots…Goodwill is a great way to get ready for winter. In fact, the secret must be out…the last few times I have gone to the Goodwill locations around me, they have been packed!! Here are some of the fun shoes I saw this past weekend!
All items in this post were found at the Goodwill location at Highway 281 and Bitters Road.
Have a fabulous Monday, and make sure to visit the ladies of VISIBLE MONDAY and SUNDAY STYLE and MONDAY MINGLE!!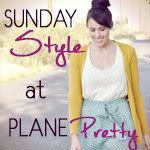 I have a fun giveaway for Tuesday!